Source Water Protection through Collaborative Efforts
April 26, 2012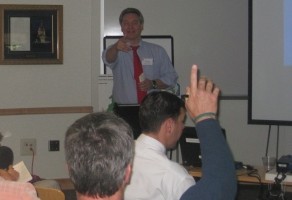 A number of water systems attended an event – Source Water Protection through Collaborative Efforts – on April 26, 2012, to learn about source water protection efforts and opportunities in the Potomac River basin.
The meeting brought together systems from West Virginia, Maryland, and Pennsylvania, along with some current Partnership members to discuss common source water concerns and ways in which the Partnership may be able to support each system's efforts. Topics included:
Regional emergency response initiatives,
Cryptosporidium,
water-quality information and resources, and
shared water-quality concerns.
Many thanks to Shepherd University and West Virginia Department of Health and Human Resources for providing the venue and refreshments for the meeting!
Presentations
Current Partnership members presented on a variety of source water-related topics at the meeting. These presentations are available for download as a PDF:
Meeting Participants
Bear Valley Water Joint Authority, Pa.
Berkeley County PSWD, W.Va.
Borough of Chambersburg, Pa.
City of Brunswick, Md.
City of Hagerstown, Md.
City of Rockville, Md.
Fairfax Water, Va.
Gettysburg Municipal Authority, Pa.
Interstate Commission on the Potomac River Basin
Jefferson County PSD, W.Va.
Maryland Department of the Environment
Navy Information Operations Command, Sugar Grove, W.Va.

Pennsylvania Rural Water
Pennsylvania Department of Environmental Protection
Town of Emmitsburg, Md.
Town of Myersville, Md.
U.S. Army Garrison Fort Detrick, Md.
U.S. Environmental Protection Agency Region III
U.S. Geological Survey
Washington Suburban Sanitary Commission, Md.
West Virginia Department of Environmental Protection
West Virginia Department of Health and Human Services
West Virginia Rural Water